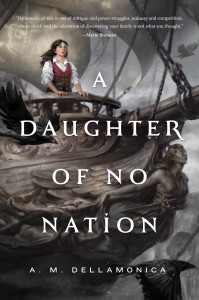 I'm so pleased that A Daughter of No Nation
is included in the Charlie Jane Anders round-up, on io9, of the most thrilling SF and Fantasy books coming out this fall. It's in great company, with books by Jim Butcher, Steven Baxter… woah, Salmon Rushdie (wasn't expecting that!), Nnedi Okorafor, Kameron Hurley, Ann Leckie, Tanya Huff and so so many others.
Some of those fall books are coming out in mere minutes, so this week will bring you not one but two author interviews here on my site, along with a write-up about S.M. Stirling's The Desert and the Blade
.
The next couple of weeks will be entertaining and action-packed. There will be Heroine Question interviews on Wednesdays, but I'm not sure what else the blog may hold.  We've built a bit of downtime into the early part of the month, and chief among the things I'm looking forward to doing with that time is hitting TiFF like a movie-going anvil. Kelly and I plan to see at least 13 films. As an appetizer for that fabulous experience, we're also going to a special event tonight, where Pacific Rim
director Guillermo del Toro is introducing the 1943 adaptation of Jane Eyre as part of the Gothic Master Class he's conducting there.

Will Orson hold his own against Toby Stephens? My assumption is no way. But I cannot wait to hear what del Toro says about the Gothic form!!