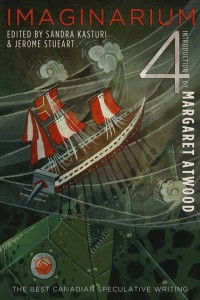 Or you should, anyway. Is my argument.
As I write these words it's Thursday the 23rd, and I am sitting in Luma, which is the upstairs restaurant at the Tiff Bell Lightbox theater, at King and John Streets in Toronto, having what Kelly and I like to call a Superglam Writing Date. It's a lovely spot for it–spacious and comfy, with good coffee for me, interesting wines for Kelly and a little plate of cookies and random shards of the dessert menu, made for sharing. The staff are pleasant. The crowd is upbeat and bubbly, pleased with the fact that most of them are dining, drinking, and then heading into a darkened room to share a brainy film experience with strangers. The music is neither too intrusive nor laced with yeeoldey hits of days gone by. (And you never get cuss-laden misogynist rap, which is more than I can say for the Jimmy's on Gerrard.)
Normally I would be writing fiction and nothing else on an outing like this, but I am taking a little break from The Nature of a Pirate while some trusted writers and readers gnaw on it. The goal is one more pass through the text, starting Monday, working from their comments, and then a submission to my editor by summer's end. After that, I will probably write some grant applications and short stories while contemplating my next novel-length move.
A few things I've been involved in lately:
SF Signal's Mindmeld asked what fictional character I (and Kelly, and several other writers) would offer Canadian citizenship to. I chose: the Tick. My argument is that Toronto, while lovely, could use a lot more of the surreal.
Also on SF Signal, the full ToC for License Expired has been released. It is a wonder to behold. In addition to a gleamingly awesome author line-up, including Kelly, this Ian Fleming inspired anthology has some fantastic story titles: my Moneypenny story is called "Through Your Eyes Only," for example, James Alan Gardner will be giving us "The Spy who Remembered Me," and Claude LaLumiere's story is entitled "You Never Love Once."
Finally, I'd like to announce that my Tor.com novelette "The Color of Paradox" has been selected by Sandra Kasturi and Jerome Stueart for the Canadian Best Of antho from ChiZine Publications, Imaginarium 4, where it will appear with stories by So Many People!! Peter Watts and Gemma Files and Kelley Armstrong and Peter Chiykowski and Eric Choi and Cory Doctorow and Helen Marshall and David Nickle and and and… it's an incredible line-up, and I am lucky to be in it.
All very pleasing things, and I hope to announce another reprint sale soon, once the contract's in and done. Is the summer being similarly kind to you? I definitely hope so.