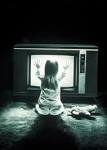 One of the things I'm doing in the first weeks of my MFA program is a top ten list of TV shows, based pretty much on whatever criteria I want, with notes on what makes them interesting. Here's what I came up with.
W1A
 –This comedy about the bureaucratic workings of the BBC is something I return to again and again because the dialog has so much verisimilitude and I kept seeing new things within the characters until maybe the 5th or 6th viewing.
Shetland
—the vast majority of my current TV viewing originates in the UK and this show, based on a series of Anne Cleeves novels, is my front-running fave. This is the one that would change as soon as I developed a new obsession, but right now Doug Henshall's Inspector Jimmy Perez and the Shetland Islands settings loom large. The construction of the second season was brilliant.
Quantum Leap
—I love time travel. Loooooove it! I came to this years after it aired, when it was in rerun on the Space Channel. Many things about it do not hold up, but Scott Bakula's performance as Sam Beckett and the compassion he brought to every leap still get me. What's more, I've seen shows that try to copy this format time and time again, only to, in my opinion, fail: Tru Calling
 and Journeyman are two examples that come to mind.
Farscape
–What fascinates me most about Farscape
 (Boomtown
 has this too) is that even from the second episode, the characters and situations were established with a confidence and depth that made it seem like they were already in their third season.
Hannibal
—There was a time when this would have been too gory and graphic for me, and I realized afterward that my bar had shifted. I like the dark humor in this, the fact that the first season in particular is a meditation on the nature of art and art criticism, as mediated through serial killers creating installations using murdered human bodies. Grim, yes, but effective. Also, as others will no doubt note, Hannibal
 is slashy AF.
Parks and Recreation
– I am not much for sitcoms, but numerous people insisted that if I held on through S1, I'd love this, and they were right. Brilliant casting, good ensemble storytelling, and what I liked most was the attempt to create romantic relationships that lasted rather than building unresolved sexual tension indefinitely, paying off with sex, and then staging a spurious break-up.
Battlestar Galactica
—the original. Cheesy and dumb, and doesn't hold up, but I cannot pretend this was not formative for me: I still write a lot of fiction about genocide and fleets of ships on the move.
Veronica Mars
– witty, good mystery construction, compelling characters, and I liked the Nancy Drew + noir mash-up. Most high school based shows falter when their MC goes to college but some interesting things happened in Veronica's freshman year on this series.
Boomtown
– non-linear storytelling, reasonably diverse cast, play with POV, great s1 arc.
Buffy the Vampire Slayer 
—I caught up with this a few seasons after it initially started airing, and rewatched it all again for Tor.com a couple years ago. It was one of the first shows that had online discussion groups breaking down every episode as soon as it aired, and I had to quit one such group to avoid spoilers. Because I did my rewatch in a fairly public way, it spawned after-the-fact discussion and analysis from many fans. As a side show to the actual show, there's the ever-fascinating and still current public discussion of Joss Whedon himself. Is he a great writer or a hack? Is he a feminist or not? It's all interesting.