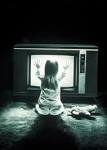 I have watched many a bad Western because, well, Western! None of them has beat out Silverado
's place in my heart. It's so much a favorite that it's one of the movies we took to Italy with us. Because: Danny Glover! Linda Hunt! Scott Glenn! Kevin Kline and a soupcon of John Cleese!
But, also… Kevin Costner. Wooden, dull, square-jawed Kev. He's inexplicably good in this, and not just when he's showing off how well he rides the horseflesh. He is even, at points, funny. Good direction and the fact that he's still working hard to make his name, I think, are the explanation.
There's something in me that resists Renee Zellweger. She's a terrific performer, and I heart both Chicago
and Down with Love
with a mindless fannish passion. I wouldn't want to see anyone else in either of those roles. And yet… some hardwired thing within makes me want to dislike her. (Chicago
also gets bonus points for being my favorite Richard Gere movie.)
He makes my gorge rise, but I thought Woody Harrelson was very well-cast in The Hunger Games
. I find him convincing as a hard-boozing asshole. (I know he does a similar thing in True Detective, but hours on end of that was too much Wood for me. Plus it's not a movie.)
I actually pulled up Tom Cruise's filmography to see if I could find something other than Minority Report
that I loved, and found zippo, nada, nothin'. Phillip K. Dick and Neal McDonagh FTW!
(Tried the same with Julia Roberts and didn't find a single thing I'd rewatch unless the plane was going down and I really needed distraction.) So instead I'm going with Angelina Jolie and Sky Captain & The World of Tomorrow
. I'm not strongly against Jolie, and I enjoyed the Tomb Raider films, but she's not someone I seek out, or get excited about.
What are your love the film, hate the actor faves?