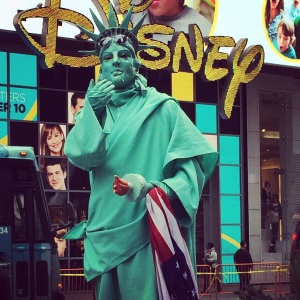 New York Comic Con was an enormous, delightful, fan-filled spectacle of an experience, and I was thrilled to be able to go there, to meet some readers and get to know all of Team Tor a little better. I got to talk magic systems with Sam Sykes, Ilona and Gordon Andrews, Kim Harrison, George Hagen and Jeff Somers at a standing-room only panel. I signed books, gave out Child of a Hidden Sea
buttons, and met a lot of people who had, previously, been e-mail contacts.
In and around the event, Kelly and I visited The Frick Collection, the Met, Chelsea Market and the High Line. We saw Cabaret, with Alan Cummings, at the former Studio 54. I tried on some dresses at the Desigual store, but failed to commit to any of them, and walked through Central Park a couple times. In the process, I got a much much better sense of where things are in Midtown.
What else? We ate many pastries, and actually saw Times Square both by day and by night. (Our decision to skip it on the previous trip was more or less borne out, but I admit I wasn't entirely immune to the glitter and flash of it all.) We drank much coffee at Gregory's, and much better coffee at Blue Bottle, and discovered that the Food Network has a fantastically beautiful loading dock of all things:
On Sunday we went to the Morbid Anatomy Museum in Brooklyn with Ellen Datlow, Rick Bowes and Terence Taylor, and then we looked around the neighborhood (which includes a superhero supply store!) for a little before going back to our new digs in the West Village.
Then on Monday we flew home to two well-cared for but pleasingly happy to see us kittens. By then we were in such kitteh withdrawal that, despite having been favored with a bit of love from the cats at our Air B&B, we were watching the Greatest Hits of the Kitten Channel on Kelly's phone during take-off.