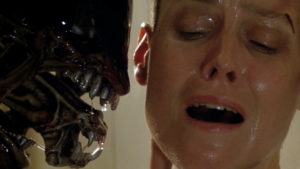 Happy Halloween, everyone!!
This week in my Creating Universes, Building Worlds class at the UCLA Extension Writers' Program, one of my students said, in passing, that they thought James Cameron's Xenomorph Queen, from Aliens
, was a great villain, and that they thought Cameron was generally particularly good at creating villains. So I asked if they thought the Queen was a true villain, or–to split a semantic hair–an antagonist? She's acting, after all, to avenge her offspring, and to survive.
What I was wondering, in that moment, was this: does villainy require premeditation, evil intent, or cleverness?
We batted that around a bit, talking about whether a baddie with simple motivations, like the Queen or the original Terminator
 (who does presumably know that what he's doing is illegal within the time period he's visiting, and who does a few pretty clever things to find Sarah Connor) is truly villainous. Here's a snip from one of my posts in that discussion:
One definition of villainy is "wicked or criminal behavior." If we were to contrast the Xenomorph Queen and the first Terminator, there's an interesting question of intention. The former certainly isn't setting out to be criminal. She's essentially a big space-wasp. Wasps are parasites and what they do to their prey species is thoroughly horrible. And, to add in another wrinkle, she is smarter and more thoughtful than her soldier-spawn, who are orders of magnitude smarter than the face huggers. It is common in action movies to work your way up from dumb thugs to smart villains.
The Terminator is after one kill and causes a lot of collateral damage as he pursues it… in some ways, what he does is less horrible than space wasp parasitism. And, as you note, it behaves in ways that are consciously criminal and much more premeditated.
Anyone else have some thoughts? Is villain a value judgment? A level, like boss monster?