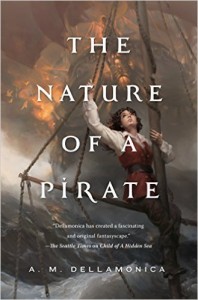 I am happy to say I am the Author of the Month this June at The Heroine Bookstore, an online venture that promotes genre works with female protagonists.  There's an interview with me at the bookstore site and, to sweeten the pot, THB is giving away copies of Child of a Hidden Sea
 and a A Daughter of No Nation
. Entry deadline is June 24th; the winner will be announced the next day.
You can enter the contest here.
As I write these words, we are at the halfway point between the release of book two, the above-mentioned A Daughter of No Nation
 and the final episode in the Hidden Sea Tales, The Nature of a Pirate
. The third book brings Sophie back into direct conflict with the nations of the Piracy, and particularly with Convenor Brawn of Isle of Gold.
With the exception of Issle Morta, Parrish's monk-riddled homeland, the surviving nations of the Piracy have been frustrated for over a century. They see pillaging on the high seas as an important cultural practice, and they argue that the Fleet's protection of the smaller and most vulnerable nations of Stormwrack is doing these peoples no favors. Pirates firmly believe in the idea of survival of the fittest… where the fittest are themselves and any country with a navy powerful enough to deter all comers. Many of the big political events since Sophie's arrival have been caused by the Piracy's determination to break the Fleet and the treaty that holds it together. Come December, you'll all get to check out their next big try.