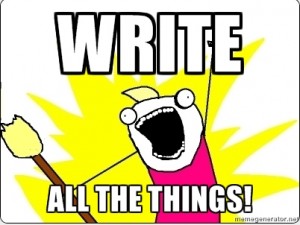 Advance polls are open, Canadians! Whatever the outcome of the upcoming election, I am grateful to have periodic chances to at least try to give my corrupt, racist, hatemongering, anti-science Federal government the big ol' Heave Ho, and I hope you are too. If you're from some other country, and my usual lack of engagement with current news stories is one of those things that you like about this blog… well, you can be thankful that it's almost over. We'll be resuming our usual mix of art talk, writing essays, random babble about coffee, photographs of the cats, book-related links and Life of Alyx again soon.
I am not exactly sure when I shall advance vote. I've blown today's chance, I think, as I'll be haring off to do some things with a Kelly and a friend shortly. This weekend promises to be action packed, alternating more (fun) haring with bursts of writing. We both of us want to lay down some words over the next few days.
On a completely other topic and in case you missed it–I am running a contest all month where you can post this link about the Goodreads givaway on Twitter or Facebook, tagging me so I see it, and I'll enter you for a copy of ​Child of a Hidden Sea
.