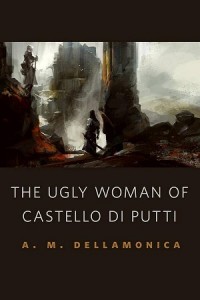 As you can see, I have a cover now for my upcoming Tor.com novelette, "The Ugly Woman of Castello di Putti." It's small here, but if you want a better look there's a link here you can use.
This story is the second of the series I'm calling The Gales. The first was "Among the Silvering Herd"
, and like that story, this one features Gale Feliachild, ship's Captain Royl Parrish, and their ridiculously handsome first mate, Garland Parrish. Their first adventure took them to Redcap Island, where Gale realized that Royl was considering turning the ship over to Parrish, because he'd like to retire. The second takes them all to one of her favorite island nations, the volcanic island of Erinth, for something of a holiday. Unfortunately, there seems to be a conspiracy afoot against her good friend, the ruling Conto.
The story will be out in early March. I will keep you posted.
(But wait! There's more! Buy now and we'll give you… um… forks?)
These stories cover certain events on a world called Stormwrack many years before the opening of my upcoming novel, Child of a Hidden Sea
. I hope to be unveiling that cover soon… it is not quite finalized, but what we do have is gorgeous.