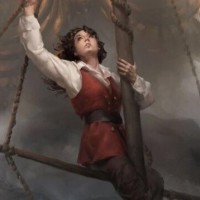 A marvelous thing happened this morning: a fan from Newfoundland reached out to tell me that they'd started Child of A Hidden Sea, were enjoying it immensely, and were also thrilled to see fish and brewis make an appearance in the story.
They had also discovered "Losing Heart Among the Tall
" and wanted to know about other Stormwrack stories: whether there were any, what they were called, how to find them.
The Gales–the five stories about Gale Feliachild, back when she's sailing around adventuring with a very young and pretty Garland Parrish, are among those things I often post in bits and pieces, on social media. But it has been awhile since I listed them all in order, as a piece. So, for anyone else who's curious:
1. "
Among the Silvering Herd
", their first adventure, where Garland learns about the curse and Gale accepts that some new blood may be needed aboard the sailing vessel 
Nightjar
.
2. "
The Ugly Woman of Castello di Putti
," An old lover, labor unrest, and a conspiracy to release a magically contained volcano.
3. "
The Glass Galago
," Gale learns about Garland's past as the powerful spellwriting lobby seeks to disenfranchise one of the smaller, weaker nations.
4. "
Losing Heart Among the Tall
," Discovering a slain mermaid spy sends the
Nightjar
crew headlong into a conspiracy by the pirate nations to destroy the Fleet of Nations flagship, 
Temperance.
5.
The Boy who Would Not Be Enchanted
(available at Beneath Ceaseless Skies). The Allmother of Verdanni wants to control or change the prophesy that Gail Feliachild will one day be murdered.