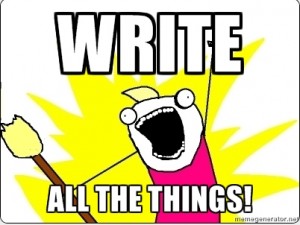 As it says: I am not doing Nanowrimo this year; I have books to rewrite, and stories on the go. There's no discrete 50K chunk of wordage I need to generate, and so many things to finish.
The finishing is pleasant, though I do love the mad plunge through a draft. And the November part of Nanowrimo usually appeals to me. I sometimes struggle to get writing done after Halloween, and having a huge deadline and braggable goal has sorted that challenge rather handily for me in the past.
What I am doing, now that the Child of a Hidden Sea
* copy-edits are on their way back to New York, is skimming through book two, currently titled Daughter of No Nation, as preparation for buckling down to really polishing number three, Nature of a Pirate. I am also considering what I may set as my 2014 writing goals: what I want to do, and what I need to do. Glancing up from the project at hand, in other words, to look at the work and career as a whole. If there's a short story you wish I'd tackle, or a universe you want me to return to, now might be the time to put in a request.
__________________________________
*Yes, the book's already available in ebookstores for pre-order, even though its release date is June. The above link is for Amazon – here's Chapters Indigo. Cool, huh?