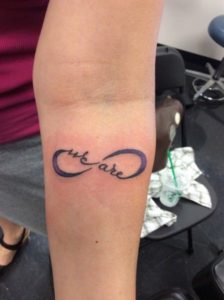 Laura Anne Gilman is the Nebula- and Endeavor-award nominated author of Silver on the Road
 and The Cold Eye
(novels of The Devil's West), and the short story collection Darkly Human
, as well as the long-running
Cosa Nostradamus series, and the "Vineart War" trilogy.

Under the name L.A. Kornetsky, she also wrote the "Gin & Tonic" mysteries.
A former New Yorker, Laura Anne currently lives outside of Seattle, WA with two cats and many deadlines.  More information and updates can be found at www.lauraannegilman.net, or follow her on Twitter as @LAGilman
When I was younger, I thought I'd never have a tattoo.  Not because I didn't like them – I saw some beautiful examples of ink work (as well as some terrible ones, let's be honest) and I'd done enough reading to understand that they were deeply meaningful in many cultures-not-mine.
But I was also Jewish, and even if you were willing to overlook the proscription against altering your body (I have pierced ears and have an organ donor card, so obviously I am),  tattoos had a very different meaning after the Holocaust.
So yeah.  I admired them on other people, but didn't seriously consider them for myself.  Especially when my then-husband commented on his distaste for them.
But somewhere around my 35th birthday (not entirely coincidentally around the time of my divorce), I started to think that maybe I did want one.  Something deeply personal, something meaningful. But I had to be sure.  This wasn't a haircut that could grow out, this was a permanent addition to my body, one that would not be easy to erase.
So I waited.  And contemplated.  And gathered notes.  Because my idea of "on a whim" usually takes several weeks, at a minimum.
This took several years.  In fact, it took almost a decade.  And along the way, I considered and rejected a number of designs, including the Zen Buddhist ensō, before finally settling on the lemniscate, a geometrical representation better known to most of us as "the infinity symbol."
It's not coincidence that this occurred at the same time I was writing the first Devil's West novel, Silver on the Road
, wherein the sigil for the protector of the Territory was a lemniscate set within a world-circle.  There was something about the multiple ideas of the image that appealed to me, the sense of something that never ended, never began, could never be counted, and was forever complete.  It connected to the issues I was writing about, but also to how I see my life, and the world around me.
In terms of spirituality, that's pretty much all I've got.  The sense that we're all part of something far more than we can see, not so much swept along in it as part of it.  We can't extract, we can't step away.
So yeah, finally.  I had a visual I could see keeping on my body for the rest of my life.
So then I started considering where it should go.  With the aid of some henna artists, I tried it out on several different locations, starting with the shoulder.  But none of them felt quite right to me.
During all of this, I moved across-country, Silver on the Road
 and its sequels sold to a publisher, and my father, who had been battling Parkinsons' for many years, was diagnosed with stage 4 osteosarcoma, and died less than two months later.
And I finally knew where my tattoo would go.
Not on the shoulder.  Not on my leg, or my back.  But on my arm.  Just above where the Nazis once tattooed serial numbers on the bodies of my relatives, to turn them from people into things.  A personal "fuck you" to those who try to erase us from the universe.
A memorial to my father, and all those lost over lifetimes.
I am not a thing.  I am not alone.  We are greater than we know.  We are infinite.
I also don't have the urge to get another tattoo. Yet.  Check in again next decade…
---
About this post: Inksplanations (and variations thereon) is the name for a series of short interviews with a number of genre writers about their tattoos. Why they got them, what they mean, how getting ink did or didn't change them–any and all of these topics are fair game. What drives a literary artist to literally become canvas for an image or epigram? Did they get what they were seeking? I wanted to know, especially after I got my 2016 poppies from Toronto artist Lorena Lorenzo at Blackline Studio, and so I did what any curious writer would do. I asked.