Alex Bledsoe grew up in west Tennessee an hour north of Graceland (the home of Elvis) and twenty minutes from Nutbush (the birthplace of Tina Turner). He's been a reporter, photographer, editor, and door-to-door vacuum cleaner salesman. He now lives in a Wisconsin town famous for trolls (the real kind, not internet commenters) and tries to teach his three kids to act like they've been to town before. His most recent novel is Chapel of Ease
, fourth in his Tufa series.
He can be found on Facebook, Twitter, and his official home page.
---
In the early 1990s, I worked as an assistant manager for Peaches Music and Video in Mobile, AL. I was (and remain) singularly unsuited for retail–my totem animal is the Soup Nazi–and it remains the only job I've ever been fired from.
Some of the few perks were the piles of free CDs music companies sent us for in-store play. Past a certain point they were put up for grabs; the store manager got first pick, then us assistants, and finally the regular clerks, all in order of seniority. I was the least senior manager, so I never got the big chart-toppers like the Red Hot Chili Peppers' Blood Sugar Sex Magik or R.E.M.'s Automatic for the People.
While working at this job (and at every job I've ever had), I was also plugging away unsuccessfully at writing.  As part of keeping suicide at bay as the rejection slips piled up, I gave myself future rewards. One of them was a promise to myself that when my first book was published, I'd get a tattoo to mark (heh) the occasion.
The only thing was, I had no idea what image to get. A book seemed obvious, and a pen unrealistic (I mean, even then, nobody wrote books longhand). Plus it was permanent, so I needed an image, a symbol, that I knew I'd never outgrow. I eventually had to simply trust that I'd know it when I found it.
And then, in the pile of CDs at Peaches, I found Meryn Cadell's Angel Food for Thought.
Cadell, at the time performing as a woman (he's since identified as male), had a minor hit from this CD, a spoken-word track called "The Sweater."
The entire CD was fun and funny, and since I was the only one among the staff who thought so, it was still there when it was my turn to go through the freebies.  On the back cover, there was a tiny line drawing of a typewriter: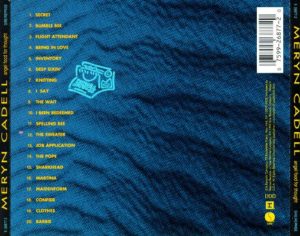 And as time passed, I realized that this image was in fact the ideal tattoo to celebrate my first book. That is, if I ever sold one.
Flash forward from 1992 to 2007 (yes, fifteen years later).  My first novel, The Sword-Edged Blonde
, was finally released. By then I'd married a woman who fully supported my writing dreams, and I'd told her in passing about my tattoo idea. I even showed her the design, but I'd never actually made plans to do it. What seemed really cool at 29 seemed a little…less so at 44.
Then she surprised me with a trip to the Blue Lotus Tattoo Parlor in Madison. I'd hoped to get the tattoo in the actual size of the image on the CD, but the artist (after 10 years, I'm afraid I've forgotten his name) explained that tattoo resolution wasn't that fine. So he took it, blew it up until he could manage the detail, then put that sucker on my right arm. My "write" arm, heh heh.
It remains my only tattoo. I've considered others, but I've never discovered another image that resonated so strongly. There's something understated and (to me) powerful about having a lone tattoo, one that fully represents you and always will.  So I'll probably stick with that.
Unless one of my books becomes a movie…
---
About this post: Inksplanations (and variations thereon) is the name for a series of short interviews with a number of genre writers about their tattoos. Why they got them, what they mean, how getting ink did or didn't change them–any and all of these topics are fair game. What drives a literary artist to literally become canvas for an image or epigram? Did they get what they were seeking? I wanted to know, especially after I got my 2016 poppies from Toronto artist Lorena Lorenzo at Blackline Studio, and so I did what any curious writer would do. I asked.