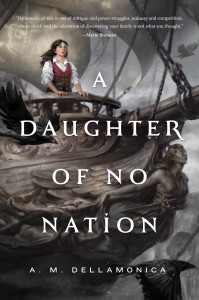 Now that I have a shiny new cover for A Daughter of No Nation
, I asked if anyone had any questions about the upcoming book, which'll be out in November.
And Paul Weimer did! He asks:
Is Sophie's brother coming back?
Yes. Bram is in both A Daughter of No Nation (or, sometimes, ADoNN) and the third book, whose tentative title is The Nature of a Pirate.
How much time takes place between the end of Child of a Hidden Sea
and the beginning of ADoNN?
The second book picks up about six months after Sophie's deportation from the Fleet at the end of CHS.
Will we ever see a map? (you knew I needed to ask that)…
Honestly, I don't know. I have hopes that it'll happen one day… but as you probably remember, there's so much ocean on Stormwrack, and so little land, that any full map of the planet would look like a blue sphere with green pimples. Also, since I am completely incapable of drawing one, some assistance will be required. A better bet is getting maps of some of the great nations, one day: Sylvanna, for example, and Verdanii. I don't think there's going to be a map in this book, though.
What new characters are you most excited to introduce us to?
Hmmm, who's the most exciting new character in the second novel? We do see a little more of Sweet, who has been promoted up from her bosun's assistant position on Nightjar, and you meet Watts, a doctor they pick up en route in this second book. I think the most fun I had with characters you haven't seen previously was probably with a certain monk on Issle Morta, who has some strongly held opinions about Garland Parrish's life and career choices.
You also get a quick look at Sophie's adoptive parents, Regina and Cornell Hansa.
Paul, thank you for the questions! And the floor's still open, everyone–what else do you all want to know?