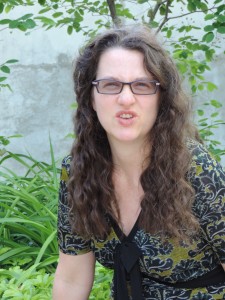 I try to limit my whine bloggery, but this week has had the emotional tone of a light bear mauling. You know the kind of thing I mean: buffeting, skull-gnawing, the occasional rake of claws. Still, the bear ain't seriously pissed off or, worse, hungry. Eventually she heads off to play with some other food–because bored–and you pick your foot off the ground and hop to Dr. Frankenstein's for a discount reattachment.
There were awesome things too, like the Chizine Saturnalia party, the Carbide Tipped Pens book launch, and–so delightful and exciting!–Kelly selling a story, "The Three Resurrections of Jessica Churchill," to Clarkesworld. Her list of upcoming publications can be found here now, if you haven't been keeping score.
So! Someone remarked that I haven't been posting about the kittens. Can that possibly be true?  Here's a very weird picture of the two of them hiding from the dude who came to fix our doorjamb.
The most notable thing right now about Lorenzo and Chinchilla is that they look an awful lot like cats. They're about eight months old, which implies another few months of growth, but Lozo's hit the 12 pound mark. CinCin's half his size, and will certainly be the tiniest cat we've ever owned. Not the tiniest beast, thanks to the lizards, my college tarantula (yes, like so many other girls, I experimented with arachnid ownership when I was at university) and their coterie of magical crickets, whose short, pointless insectile lives were devoted to helping the noisiest singer among their number escape, all so that we would be treated to a constant symphony of sunsets at summertime, an echoing, bree, bree, bree, FRIGGIN' BREE!!! HAHAHA PRIMATES YOU WILL SUFFER FOR YOUR CRIMES AGAINST MY COMRADES, I CAN DO THIS ALL NIGHT!! from under the refrigerator.
The kids have also picked up a few new spy nicknames: Fred and Barney, Moose and Squirrel. We still also call them Loaf and Sauce, though interestingly they seem to have mostly lost interest in the wet food that spawned this pair of names. They can pack away the kibble like nobody's business, though. Anyone else had their young cats go: "Meh? Kibble's fine; I'm bored with the wet stuff." It happened with Obiwan too.
On a more mundane note–and I'll probably repeat this a few times, in various entries–my sff.net e-mail address is going to be shutting down some time in the New Year. You can still get me at alyx@telus.net or the main addy. Many people do use Facebook to reach me, which is completely fine as long as you understand that a) it may take me weeks to remember to check that Inbox and b) I do not respond to single-line demands for anything, whether it's a book review, a Like My Page, my mailing address, jam, blurbs, signal boostage, photographs, or money. Say hello, for pity's sake! Tell me how you're doing and what you're up to, and then hit me up for whatever it is you want. I might still say no, but chances are better that I'll answer you rather than leaving a trail of steaks leading to your door, all to tempt that bear I mentioned.