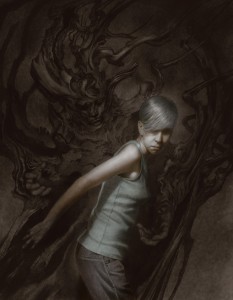 Back when I begged you all to throw me some blog topics, the ever-hilarious Lorraine Valestuk said: "Why does practically every lead in a fantasy novel have to have green eyes?"
The query was a bit tongue-in-cheek, obviously, and since the question originated on Facebook, it generated chatter in a similar vein. Some laid the blame at Marion Zimmer Bradley's doormat; I assume that means Mists of Avalon is overrun with green-eyed girls, boys and dragons, but I'm not about to reread it to confirm this guess.
This is the kind of question that showcases how completely I am not a doctor of literature, fantastic or otherwise. But the conversation did spark some thoughts.
First, and perhaps uncharitably: at least it's not frickin' violet. As a teacher who works with a lot of new writers, I'm here to tell you that it hasn't been that long since every quarter brought me a manuscript whose heroine had violet eyes and, sometimes, sparkly diamond eyelashes. Maybe a memo went out, though, because this particular means of making the hero tres exotique seems to have died down.
Second: Describing your characters in an interesting and vivid fashion can be deceptively tough. A lot of writers look for that quick shot, the combo of words that will sketch body size, hair/eye color, and skin tone onto the reader's imagination. Looks aren't important, right, as long as we know she's not only a super-amazing nuclear physicist (slash ninja) but also hot? And so we figure we're done.
A problem with giving a mug shot is that it can get repetitive in a novel with a dozen or more characters.
We have eyes everywhere! Compounding this challenge is the fact that we want to drag the eyes into the narrative a lot… especially during character interaction.
Tears clustered at the ends of Mary's diamond lashes, framing her violet irises magnificently. "How can you say that?"
"Try me!" Joey's emerald eyes flashed a challenge.
Burt gave them both a sidewise glance, rolled his eyes, and then looked skyward, beseeching the author to stop with the cheesy examples already.
Pro tip: try using a metaphor. Even "Harry was a rhinocerous of a man," will give us something specific to imagine, far more easily than, "Harry was tan, burly, blue-eyed and had a truly epic nose."
Thought four: our default assumptions about beauty are, among other things, racist.
One of those leaps of logic we make without thinking about it, when writing, tends to be that our main characters are physically attractive, especially if they're women. If you've already already decided that your good guys are pretty–even though there is, perhaps, no good reason to drag a person's looks into the story–it's easy, so terribly easy, to not even question whether they might be a person of pallor.
Green and blue eyes, unless you specify otherwise, are going to default in a reader's mind to white-skinned and possibly blonde, just as surely as the phrase 'my moustache' is going to lead us to think 'dude' or 'itchy fangs' is gonna take us to 'creepy, diseased vampire in need of a dentist'.
Do an image search for green-eyed actresses and you get people like Drew Barrymore. They're white, their yellow hair is straight, they tend to be tall and–lest we forget–they're also thin.
This isn't a new insight, I know. And I'm not saying every writer who pops a pair of sparkling emerald orbs in their protagonist's skull, rounding out the chiseled cheekbones and flawless complexion–no, make that a light dusting of freckles!–is being racist. But writers should at least examine where these impulses are coming from. Why is your resourceful, brilliant and downright saintly hero also naturally gorgeous? Is that necessary?
If it is, how narrowly are you defining gorgeous?
When you cast your mind ahead to the blockbuster film that will be made from your book–when you imagine casting the cinematic extravaganza that will win you an Oscar and make you richer than… well, richer than at least twelve other people… how diverse is the actor palette you're imagining? This may be a question worth examining.
If the answer makes you uneasy, maybe you should take a breath, go read James Alan Gardner's Expendable
, and rethink those green eyes.