Child of a Hidden Sea
cover flats came in the mail yesterday. The only picture I've taken so far is this somewhat goofy one-handed tablet selfie. There will be more and better pics soon.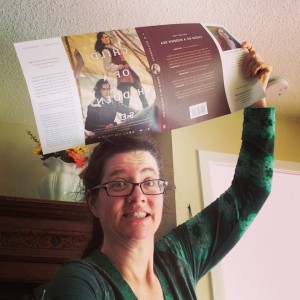 In other news, I am pleased to announce that my Stormwrack story, "Queen of the Flies," has been accepted for publication by Michael Matheson for his Quiltbag: Start a Revolution anthology.
"Queen of the Flies" is not one of the Gales–you won't see Gale Feliachild, Garland Parrish or any of the crew of Nightjar in the story. There is a slight connection with a character from the Child of a Hidden Sea
sequel, a memorician named Krispos. If all goes to plan, you'll be meeting him in this story first, and in that book (whose working title is A DAUGHTER OF NO NATION) later in the same year.
Which is when? The Quiltbag anthology is slated for an early 2015 release, I believe, and Matheson will be posting the ToC shortly. I'm extremely psyched about this one; it's going to be truly special. I'll tell you all more as time goes on.
Tonight at 6:30 p.m., authors Saladin Ahmed and Chuck Wendig will be appearing at Bakka-Phoenix books, to read or mud-wrestle, as the whim takes them. This is a definite can't miss event. Are you local? Will I see you tonight? I sure hope so. Here are the details.