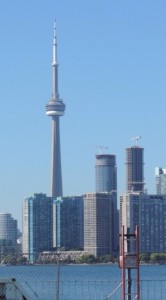 Yesterday we went with our real estate agent and Floor Man Rudy to the new apartment, to measure and choose floors, to figure out the depth and width of an all-important wall nook, and to generally look at all the things we were too excited to see back when we decided we wanted the joint.
Then we cleaned and cooked and prepped the old house for a very small gathering in honor of my upcoming birthday. In addition to the usual godlike carrot cake, Kelly had made sea salt and caramel-covered pecans.
People came, food was devoured, wine was drunk, fun was had.
Today the two of us got a day pass from the TTC–they're an exceptionally good deal on weekends, as we can both ride on one–and schlepped out to Riverdale Park to admire the domesticated animals and enjoy the sunshine. When we left the house we found happy hockey fans circulating on King Street, celebrating the men's gold medal, which would be just about the first we'd really heard of it. There were plenty of police around, but everything was peaceful enough.
We had pho for lunch and swung back home via Kensington Market, where we fortified ourselves with espresso. (Shocker, I know! But K needed fortificaton, because she'd fallen on the ice.) Finally, on our way home, we poked our noses into several of the places where we bought furniture last spring, after we moved here. Because, you know, wall nook.
It was strange to be in Rusteak again, and to not be in a state of OMG, I just threw out all my stuff and lurched across the country on a six-week timeline! It was also fun. Whatever we put in the nook, it will almost certainly come from there and almost certainly be gorgeous.