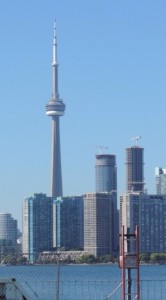 I spent this past weekend at SF Contario, a small and very writing-centered convention (as opposed to game-y or costume-y) at a hotel just on the edge of the Ryerson Campus. There was much hanging out with writers, and shop talk, and delightful analysis of the fiction we all love. And, of course, the conversation wandered into other kinds of stories: TV shows and films ranging from Battlestar Galactica to Veronica Mars to the little-known Eastwick with Paul Gross.
I also learned that GoH Seanan McGuire's favorite book is Stephen King's IT, and we got to talk about why, and chew through some of the issues I raised with the book in my recent(ish) reread of the novel, "Grownups are the Enemy" for Tor.com.
Kelly and I also headed into Cabbagetown for what was really the first time, in search of an Italian restaurant we'd heard was the real deal. And Oh Emm Gee. If you're ever in town and want to go to F'Amelia, I am so there. Two words: beet risotto. K, I think, got pictures. I was far too busy stuffing my face.