I was having an online conversation recently with one of my novel-writing students about reading more thrillers–because she's writing one–when one of her classmates chimed in with a question.
It boiled down to this: "How do you learn to write from reading? Is there an article explaining how that works?"
A number of answers occurred right away. There are so many ways to learn from reading other authors, living and dead. It's a huge question. We learn from a form of osmosis, for example: simply by reading books for pleasure, we absorb some sense of how sentences are supposed to sound, proper grammar, new vocabulary, the idea of voice, fundamentals of worldbuilding, word play, plotting, and how to structure a variety of points of view. Everything we want to try, in fiction, is in a book somewhere.
If we want to try out some particular literary technique, chances are it's because we read it in a book somewhere. I structured the Indigo Springs
frame story as I did, in part, because I wanted to understand novels like Katherine Dunn's exquisite and heartbreaking Geek Love
.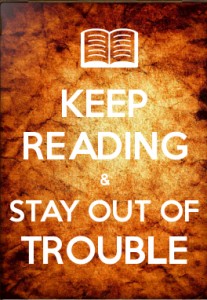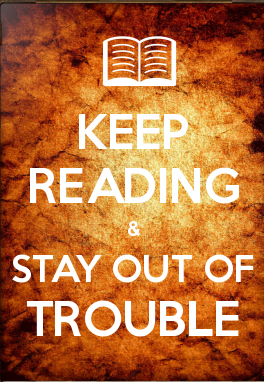 We can break down a book we love or admire–examine it scene by scene, plot point by plot point, character journey by character journey. We can outline it, draw graphs, shuffle around cards with the story components jotted on them, all to better understand its structure. On the micro level, we can become better prose stylists by examining small pieces of writing within larger works, the passages that make your heart beat faster, the ones that sing within the mind's ear because they're just that effective. (Or, sometimes, the opposite. Gillian Flynn's Dark Places
has some deeply annoying comma splices, which break up its rhythm quite badly.)
Many of you already know I do this, using my text fragment collection.
Moving off the beaten track of this topic, there are also a number of books and movies about readers and writers, pieces that are instructive. They're fiction, is what I'm saying. But they can add to your understanding of craft, or discipline, or process. A somewhat frivolous example would be the romantic comedy Music and Lyrics
, which–amid the tasty froth of a boy meets girl tru luff always storyline–sneaks in some hard truths the value of art, the persistence and commitment it requires, genre snobbery, writer's block, trying too hard, and giving up too soon. All that and Drew Barrymore, too!
Or, if you want something loftier in this vein–not to mention thoroughly wonderful–go pick up Alan Bennet's novella "The Uncommon Reader
" It's about the birth of a writer, a certain eminent person who takes up reading comparatively late in life and who does nothing, for most of the story, but read, read, and read some more. If you want a fictional and yet true answer to "How do you learn to write from reading?", this is very much it. And the beginning of that answer? Learn to read. Or, rather to read. Not glancingly or inattentively, but with passion, intent, and thoughtfulness.
(This novella is, btw, quirky and delightful. You'll laugh.)
I hope to have more on this subject in the future, and perhaps not just from me. In the meantime, what do you all think?