I will be interviewing Guest of Honor Stephen Baxter at Norwescon this April 6th and to that end I've started Stone Spring
, first in his most recent series, The Northland Trilogy. It's an alternate history about dike-building stone age Britons. The main character is a teenaged girl, Ana; of course, among a people whose life expectancy is in the thirties, this means she is in no way a kid.
I love AH and haven't read as much of it in the past couple years as I did when I was reviewing for Locus, so it has been a lot of fun. And I'm looking forward to the interview. If you're gonna be at NWC, it's at 2:00 p.m. on the Friday.
My previous read was also a novel, Stephanie Burgis's Kat, Incorrigible
, which is a thoroughgoing romp. Kat's twelve with two marriageable sisters and a family disgraced by their dead mother's very public use of magic. Her eldest sister is thereby feeling very much obliged to buy into an arranged marriage with the obscenely rich Sir Neville, and naturally it falls to Kat, who has no gift for being ladylike, proper, or even especially inconspicuous, to find a way to save her.
The book is available now and there will be a sequel, Renegade Magic
, out in the spring. I'd say they're appropriate for kids ten years or older, and I found it thoroughly fun.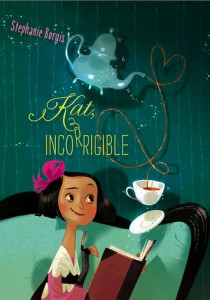 Finally, I will be mostly unavailable for today, as February 29th is when I and 28 other writers from four cities are participating in the International 24 Hour Book Project. It'll be #24hourbook if you want to follow the Tweeting fun.