While I was out of town, my friend Nelson Agustín launched his first book, A for Adobo, an alphabet book featuring the A to Z of food from the Philippines. Nelz is an incredibly gifted photographer, and I love his work. The images in this book are mouthwatering. Check out his cover: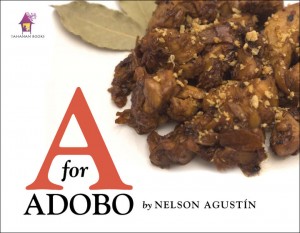 I've always adored alphabet-themed stuff: I wore out a couple Cat in the Hat Dictionaries
as a kid, was delighted by the Jane Yolen and Allen Eitzen Alphabestiary of Animal Poems
, and dimly recall a Harlan Ellison collection of what'd now be called flash fiction, called "From A to Z, in the Chocolate Alphabet." Under other circumstances, I can easily imagine accumulating a pile of such things.
In any case, if you have similar alphabetic proclivities, if you love food, photography or perhaps just want something new and lovely to share with your favourite preschool-aged loved one, I recommend this beautiful book with all my heart. It can be got from Tanahan Books for Young Readers or directly from the author—drop me a line and I'll put you in touch.
Congratulations, Nelz!