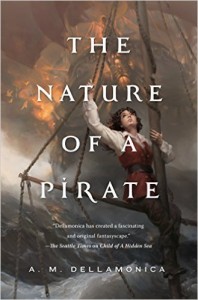 The Nature of a Pirate, thrilling sequel to Prix-Aurora winning A Daughter of No Nation and finale in the Hidden Sea Tales trilogy, is out now! You can read the first chapter here at Tor.com!
When a series of ships within the Fleet of Nations is sunk using magic, Sophie Hansa is called on to find out why. While surveying the damage of the most recent wreck, she discovers a strange-looking creature–a fright, a wooden oddity born from a forbidden spell–causing chaos within the ship. The question is: who would put the creature aboard, and why?
The quest for answers finds Sophie magically bound to an abolitionist agitator, forced to transport him to Sylvanna, home of her birth father, the charming and dangerous Cly Banning. Now Sophie and the crew of the sailing vessel Nightjar must discover what makes their prisoner so unique, even as they outrun magical assassins and villainous pirates. Will they make it to Sylvanna in time to stop the people responsible for the attack on the Fleet? Or will the pirate nations of Stormwrack achieve their most-cherished goal–the breaking of a century of peace?