As I write this in the summer of 2021, on the verge of coming out of the enforced seclusion of Toronto's long pandemic lockdown, it seems ever more amazing to me that I have published seven science fiction and fantasy novels. I feel very fortunate–blessed, really–and chief among those blessings are all the avid genre readers who made this possible! My latest:
Gamechanger
&
Dealbreaker
by L.X. Beckett, are solarpunk thrillers set in the early twenty-second century. Both have have buy pages on the
L.X. Beckett
site, with link to lots of excerpts and reviews.
The Hidden Sea Tales
Child of a Hidden Sea
Released in 2014 to rave reviews,
Child of a Hidden Sea
is the story of Sophie Hansa, a 24-year-old marine videographer whose search for her birth family lands her on another world.
Read the first chapter at Tor.com!
One minute, Sophie is in a San Francisco alley trying to save the life of the aunt she has never known. The next, she finds herself flung into the warm and salty waters of an unfamiliar world. Glowing moths fall to the waves around her, and the sleek bodies of unseen fish glide against her submerged ankles. The world is Stormwrack, a series of island nations with a variety of cultures and economies—and a language different from any Sophie has heard.  She doesn't know it yet, but she has stepped into the middle of a political firestorm, a conspiracy that could destroy a world she has just discovered…a world where everyone seems to know who she is, and where she is forbidden to stay. But Sophie is stubborn, and smart, and refuses to be cast adrift by people who don't know her and yet wish her gone. With the help of a sister she has never known, and a ship captain who would rather she had never arrived, she must navigate the shoals of the highly charged politics of Stormwrack, and win the right to decide for herself whether she stays in this wondrous world…or is doomed to exile, in
Child of a Hidden Sea
by A.M. Dellamonica.
MacMillan Books
*
Amazon
*
Kindle
* 
iTunes 
*
Chapters
*
Kobo
*
Barnes and Noble/Nook
*
Powell's
---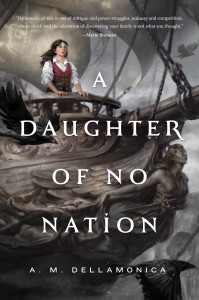 A Daughter of No Nation
As soon as Sophie Hansa returned to our world, she is anxious to once again go back to Stormwrack. Unable to discuss the wondrous sights she has seen, and unable to tell anyone what happened to her in her time away, Sophie is in a holding pattern, focused entirely on her eventual chance to return.
Read an excerpt here!
With the sudden arrival of Garland Parrish, Sophie is once again gone. She has been called back to Stormwrack in order to spend time with her birth father, a Duelist-Adjudicator, who is an unrivaled combatant and fearsome negotiator. But is he driven by his commitment to seeing justice prevail, or by something darker? Soon, she discovers something that makes her reject him, and everything he is offering. Adrift again, she soon finds herself taking a fresh look into a long-standing case between two of the island nations. The investigation turns up new information that could get her, and her friends, pulled into something bold and daring, something that may change the way she approaches this strange new world. . . . assuming she survives.
MacMillan Books
*
Amazon
*
Kindle
* 
iTunes
 *
Chapters
*
Kobo
*
Barnes and Noble/Nook
*
Powell's
---
The Books of Chantment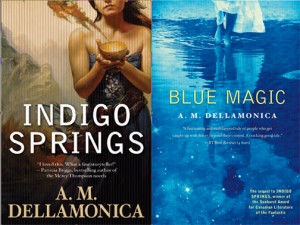 Indigo Springs is a sleepy town where things seem pretty normal . . . until Astrid's father dies and she moves into his house. She discovers that for many years her father had been accessing the magic that flowed, literally, in a blue stream beneath the earth, leaking into his house. When she starts to use the liquid "vitagua" to enchant everyday items, the results seem innocent enough: a "'chanted" watch becomes a charm that means you're always in the right place at the right time; a "'chanted" pendant enables the wearer to convince anyone of anything . . . But as events in Indigo Springs unfold and the true potential of vitagua is revealed, Astrid and her friends unwittingly embark on a journey fraught with power, change, and a future too devastating to contemplate. Friends become enemies and enemies become friends as Astrid discovers secrets from her shrouded childhood that will lead her to a destiny stranger than she could have imagined.
MacMillan Books
*
Amazon
*
iTunes
 *
Chapters
*
Kobo
*
Barnes and Noble/Nook
*
Powell's
Read the first chapter at Tor.com!
Blue Magic
: This powerful sequel to the A.M. Dellamonica's Sunburst Award–winning contemporary fantasy Indigo Springs starts in the small town in Oregon where Astrid Lethewood discovered an underground river of blue liquid—Vitagua—that is pure magic. Everything it touches is changed. The secret is out—and the world will never be the same. Astrid's best friend, Sahara, has been corrupted by the blue magic, and now leads a cult that seeks to rule the world. Astrid, on the other hand, tries to heal the world. Conflicting ambitions, star-crossed lovers, and those who fear and hate magic combine in a terrible conflagration, pitting friend against friend, magic against magic, and the power of nations against a small band of zealots, with the fate of the world at stake.
MacMillan Books
*
Amazon
*
iTunes
 *
Chapters
*
Kobo
*
Barnes & Noble/Nook
*
Powell's
Try before you buy–
read the first chapter for free
!

Pick a Store, any Store
I understand consumer loyalty. If you don't want to browse first and then click second, here's everything 
I have on Amazon
. Here's just 
the Kindle Store
 and 
my author page
. And here's 
Barnes and Noble
. You read 
iBooks
? I have those too. Don't feel left out, Canadian shoppers! Here's the 
Kobo
 store.