You want it short, you want it sweet, and you want it now? I hear and obey!
First, check out my Curious Fictions page, which contains almost a dozen reprints of stories of mine that have appeared in various anthologies.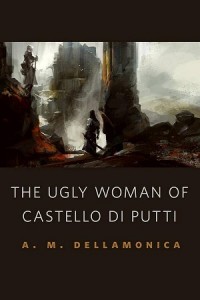 "The Ugly Woman of Castello di Putti" is a follow up to "Among the Silvering Herd." It is the second of the stories I call The Gales, and it takes Gale Feliachild and the crew of the sailing vessel Nightjar to Erinth. Some of you may remember that big things happen to Gale on Erinth in  Child of
a Hidden Sea, but this story is set years before those events.
Here's the description: Dellamonica offers a story that takes us deeper into this fascinating world. The Fleet, integral to the governing of a world that is mostly water sprinkled with a number of islands, must deal with a unique form of magic, Inscribing, which is so subtle that its effects can sometimes only be known in retrospect. On Erinth, the crew of the sailing vessel Nightjar is at a disadvantage when faced with local matters of which they know little. Strangers on the shore, they may attract unwanted attention that could cost them more than embarrassment or money . . .
The Castello di Putti has a suggestive sound to it, but don't be deceived. This is a story of civil strife, of culture shock, and ultimately of the risks and rewards of naval duty. Filled with Dellamonica's fresh, inventive worldbuilding and the joie de vivre of a society in flux, it shows a side of Stormwrack very different from that presented in the previous tale.
Read it now at Tor.com! Or get the ebook as a Kindle single, via iTunes, for Nook and Kobo.
Among the Silvering Herd
Among the Silvering Herd" is about loyalty, tradition, and the things people will do to protect what is theirs. For centuries, the island nation of Redcap has been obligated to pay tribute to the powerful nation of Sylvanna. Suffering under the heavy burden of the contract that by rights should be declared illegal, the princesses of Redcap summon Gale, a wealthy seawoman, to advise them. Political savvy is only one weapon in Gale's diplomatic arsenal, but she's up against a Sylvanner ambassador who will push her to the brink . . . or over it.
Read it now at Tor.com! Or get the ebook from MacMillan Books, for Kindle
, or via iTunes. "Among the Silvering Herd" is also available for Nook and Kobo.
---
"The Color of Paradox," edited by Ellen Datlow for Tor.com, is  about one of a series of time travelers sent back to the past in order to buy more time for the human race, which in the future is on the verge of extinction.
Read it now at Tor.com! Or get the ebook from the Kindle store via iTunes, for Nook and Kobo.
---
Wild Things
Ah, love. A many splendored thing. Here is a rather unusual love story, sweet and strange as could only happen in the post-magical reality of the Indigo Springs "event."
Read it at Tor.com
You can get "Wild Things" from: MacMillan Books, Amazon
, or iTunes. Other readers: Kobo or Nook.
The Cage
I sometimes call this my "baby werewolf has two mommies story." It's set in East Van, and it's about how the people of my neighborhood get along with discovering that monsters are more than myth.
You can read "The Cage" now on Tor.com or get the download version for Kindle
, iPad/Phone, Kobo, or Nook.
Most of the other things I have to offer you all on the web are straight-up science fiction
The Proxy War (otherwise known as Squid Stories)
The Sweet Spot is the earliest of my Proxy War series. A teenaged girl named Ruth Gerrickle and her brother Matt try to survive the Battle of Kauai. (Lightspeed Magazine).
Five Good Things about Meghan Sheedy. Same universe, different battle . . . this time, it's the Siege of Seattle. (Strange Horizons).
"The Town on Blighted Sea." The Proxy War is over, and Ruthless Gerrickle's side emphatically did not win. But life, strangely enough, goes on. (Strange Horizons).
"A Slow Day at the Gallery," recently reprinted in Forever Magazine Issue 8, is a piece on imperialism, terrorism, and being how "in a good cause" and "pointlessly destructive" are mutually exclusive concepts.