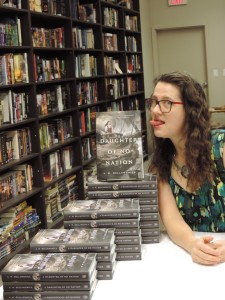 A rather brisk deadline has fallen upon me this month, and so I'm madly polishing The Nature of a Pirate in order that all of you may have it later this year. If you've been wondering why I'm not as Twittery or active on the Book of Face lately, that would be the big reason. It's in a good cause, and it won't last long. Look–it's in the MacMillan catalogue! Actually, don't, as there's nothing much there yet beyond the title. I wish I could show you the preliminary cover art. It's so pretty.
(Smaller reasons for my absence would include my current UTSC course, Worldbuilding from the Ground Up, my current UCLA course, Creating Universes, Building Worlds, and the advanced speculative fiction workshop I'm developing for UCLA for spring. Also a talk I'm preparing, another talk I'm preparing, and a panel I'm going to be on in the near.)
Finally, I am gearing up to take A Daughter of No Nation on tour in February. I will be in Vancouver on February 13th, reading at the Storm Crow Tavern at 3:00 p.m. I'll be at the Cedar Creek Powell's in Portland, Oregon on February 16th at 7:00 p.m. and on February 20th I'm taking Sophie back to her hometown, San Francisco, with a joint reading at Borderlands at 2:00 p.m. with author Randy Henderson. Invite your friends! Bring your neighbors! Invite librarians! You may even invite any pirates you happen to know, as long as they come unarmed and ready to negotiate.