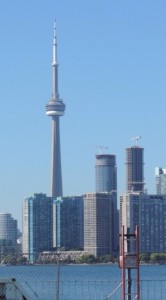 I know this blog has lately been all taken up with OMG Kittehs on the one hand and OMG Child of a Hidden Sea
! on the other. I know, too, that most of you probably don't mind.
Still, I wanted to at least try to say something else. (Anything you want to know that isn't cat or book related? Let me know!)
My second summer here is beginning. It is neat to be able to start comparing, having some perspective. To able to say last spring was rainier. Last summer we got to the heat sooner. (It is supposed to get quite toasty this week, but right now it is cool and rainy.) Even to just say "At this time last year, I'd been in Toronto for one short month. Wow!"
I've not made any serious effort to get myself somewhere new to take pictures in awhile. This is hardly surprising, since the trajectory since March has been: Texas trip, move house, adopt cats, book. It's something I hope to remedy soon.
One thing that will help will be a couple of excursions, one to Prince Edward County to see what's up with Ontario wines, and another to Amherst, where I will be signing books at a Barnes & Noble on August 9th.
It will be good to venture out of the city. Right now my comprehension of local geography is essentially a staggering understanding of where and how to find decent coffee within a 90 minute radius, walking and… well, allegedly there is stuff north of here. And perhaps elsewhere too.
I knew every bump in the Coquihalla by the time we had been in BC for 15 years, and these things come with time. Right now I'm still at the point where I meet people who live in places like Pickering and I wonder if they're having me on.