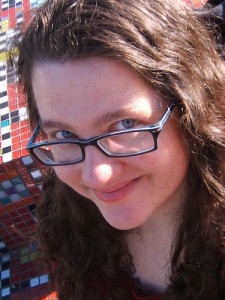 You've found the A.M. Dellamonica web page. Here you can find info about me, my novels Child of a Hidden Sea
,  Indigo Springs and Blue Magic, and my short fiction.
I moved to the city of Toronto in 2013, after twenty-two years in Vancouver, B.C. My first novel, Indigo Springs, won the Sunburst Award for Canadian Literature of the Fantastic. The sequel, Blue Magic, was released in 2012.
I am passionate about environmentalism, food and drink, and art in every form. I dabble in several: photography, choral music, theater, dance, cooking and crafts. Desire fascinates me, and I often write about the cost of love.
Within this page are blog entries, publication announcements, links to short stories and articles, and information on my latest UCLA Extension Writers' Program writing classes as well as my one-on-one mentoring program. You'll find photos, book reviews, writing resources and the occasional lavish description of a fine meal out. If you can't find what you're looking for, drop me a line. I'm happy to help.