Learning to write is a lifelong process. There's always some element of the craft you can–and should!–be striving to improve. My quest to get better, as a writer, led to my reviewing books and participating in workshops… and now, I am teaching online courses through the UCLA Extension Writers' Program.
Working with new writers is a passion for me–it's exciting and a constant challenge. Some of my students are literally finishing their first stories. Others are putting the final touches on polished, professional-caliber novels. I've seen students take rough drafts, shine them up and sell them. Helping people pursue their dreams is infinitely rewarding.
I maintain three sets of links on Pinterest, both containing materials by other writers, about writing. One is a list of actual writing articles, covering craft, markets, techniques and the elements of fiction. The other is an inspiration board, with pins containing pithy quotes by a range of authors, things that might get you back to the keyboard when you're feeling discouraged. The third is just every pin I've ever found with suggestions for character names, because I love surfing character names.
As part of my teaching practice, I sometimes blog about the craft of writing, generating mini-lectures and other resources for new authors. Links to writing essays can be found here.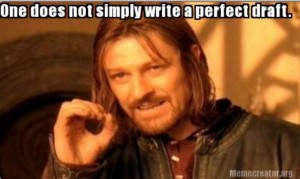 My courses reflect my belief that nobody writes immaculate first drafts and that learning to give honest, open-hearted critiques to your peers is the path to learning to make your own writing better. I emphasize finishing rough versions of your fiction… and then getting them critiqued and revised. I also assign a marketing plan in almost every course, for those writers who are already looking to find an audience. Though my primary focus is on the creative side of the equation, I strive in most classes to give students a glimpse into the commercial side of contemporary writing, too.
I am still occasionally accepting individual students with promising novel-length projects for intensive, one-on-one mentoring. Openings for mentoring come up once or twice a year. Contact me directly to ask about my prices, availability, and audition process.