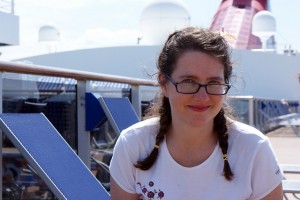 I spent my early childhood in various community theaters, prompting actors who'd forgotten their lines, running errands for carpenters and sound techs, and scrambling up eighteen-foot ladders to hang lighting instruments. As a young adult, I spent two seasons with a repertory theater company and a third performing in drag as a male whiskey trader at a living history museum before succumbing to my first passion, writing science fiction and fantasy.
I learned to write by writing. I wrote and wrote and wrote; then I went to Clarion West in 1995, got some excellent feedback, came home and wrote some more. With help from many patient teachers, editors and fellow writers, I got better. I'm working on getting better still.
Since 2013 I have been living in Toronto, Canada, where I study yoga, pursue the perfect espresso and take thousands of digital photographs. Those that don't end up on Flickr can often be found on Instagram.
In 2003, I finished my first novel, Indigo Springs. It was a momentous summer: a few weeks after the novel went to market, the Supreme Court of B.C. ruled in favor of legalized same-sex marriage. A month later, I achieved a lifelong dream by marrying my long-term partner, author Kelly Robson, at one of our favorite places, the UBC Botanical Gardens.
After selling numerous short stories to a range of literary, mystery, fantasy and science fiction markets I saw the publication of Indigo Springs
, my first book, came out in 2009, and promptly won the Sunburst Award for Canadian Literature of the Fantastic. Blue Magic
, the sequel, was released in 2012 to rave reviews.
I then dove into a trilogy, The Hidden Sea Tales. The first book in the series, Child of a Hidden Sea
, was released in June of 2014. The next, A Daughter of No Nation
, was released in December 2015 and won the 2016 Prix Aurora for best novel. The final book in the series, The Nature of a Pirate, brought the series to a gut-wrenching conclusion.